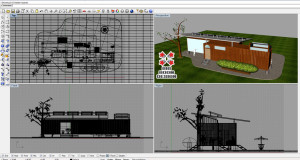 The web site design business is booming at Big Boom Design so it's been tough to break away and work on any other projects. However, I recently jumped back into some Shipping Container Home designs for a few hours. The screen shot to the right is from a 3D modeling program called Rhino. Similar to Google SketchUp but used more for product design and industrial design rather than architecture.
The container home design shown to the right is called The Tetris House due to the overhead resemblance to a Tetris block. It features a pop-top sky light mechanical widows for ventilation. A bank of Photovoltaic and Solar Thermal panels for creating power and heating water. The dining room and living room are lit by a large floor to ceiling window on the front of the house. My favorite aspect about this design is the cut-out in the roof to allow for the adjacent tree to become a part of the home.
Placed on a gravel slab with concrete pillars for support, these shipping containers are adjacently placed to create one large community area inside the house.