The Route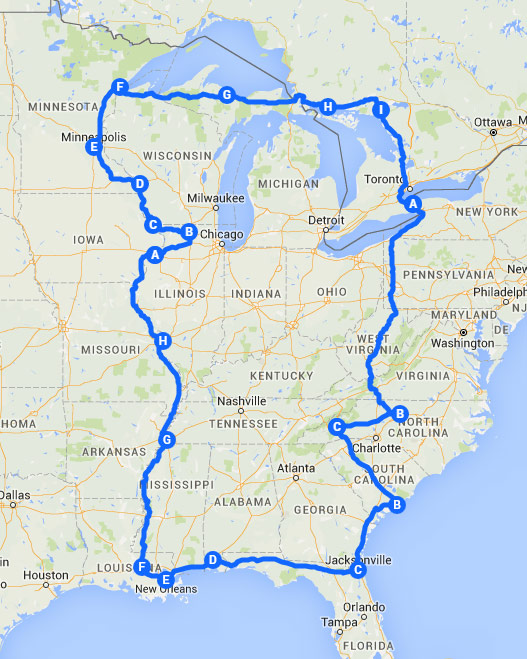 Week 1 – My trip begins in my hometown of Asheville, NC. I head southeast to Charleston, SC. South to Jacksonville, FL and on to the Orlando area. From here I head back northwest to Ochlockonee FL, west to Mobile and land in New Orleans on Thursday the 7th.
Week 2 – New Orleans is the end/bottom of the Mississippi River. From here I will travel north up the Mississippi River until I reach Minneapolis, MN where the river "ends". I'll travel a little bit further north up the St. Croix River to Duluth, MN.
Week 3 – Weather permitting, I will head east in Canada through Marquette and on to Sault Ste. Marie, ON. Further East to Blind River, French River and finally head south to St. Catharines, ON to visit my cousin for a few days.
Week 4 – The final week of travel is a route I've driven many time, although never on a motorcycle. The last leg of the trip will head south into the US through West Virginia and into Greensboro, NC where I grew up. I'll spend a few days with my folks before heading west back to Asheville NC.