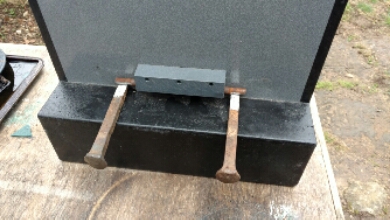 Pannier – "basket, especially one of a pair carried by a beast of burden"
When I purchased my bike it had some nice panniers already attached. They were expandable BMW boxes but just weren't going to cut it for this trip.
I found a pair of aluminum boxes on Craigslist for a $100 (without brackets). The guy I purchased them from had no idea of the brand name or how to attach them to his bike. I didn't share either of these concerns.
I brought them home in my car and immediately started digging through my scrap metal pile. Eventually I had a pile of Volkswagen engine studs and a stack of railroad spikes.
The goal was to make an attachment to the bike that didn't require me to canabalise the existing mounting points. I also needed them to be detachable without too much trouble.
The end result was a square shape using the VW studs to bolt against the bike frame and carry the box weight.
I ground the rust off everything, tacked them together, tested the attachment to the bike and then finally welded the frame up fully. The system has been working really well so far and even after the bike landed on its side (blew over in the wind) it just lifted the bike up and didn't break any mounts.