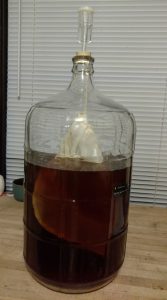 Last year we brewed a Jalapeno IPA using a few home grown Jalapenos from the garden. I think we used 2 in the mash and 3 in the secondary fermentation tank. The goal this time around was to make a beer similar to the Habanero Sculpin from Ballast Point. We did just that!
This batch consisted of 3 in the boil and this time we roasted 5 Jalapenos and 1 Habanero that we split and put into a steep sack. We left this in the carboy for a few weeks.
The beer was hot when we put it into the keg but got hotter the longer it sat. The keg lasted about 45 days and the last few beers to come out were intense to say the least.
It was a great beer and I can't wait to brew it again.