The Gear is always a topic of concern on this trip. Making sure that I have what I need but not bringing everything that I can possibly think of. I spent countless hours leading up to this trip attempting to think through all possible scenarios and what I might need with me. I've organized this list of "stuff" into three sections. Tools, Camping, Clothing, Electronics, and Other.
Halfway through the trip I mailed two boxes of stuff back to my house to help lighten the load and make some room for potential gifts that I might bring back with me.
George Carlin on Stuff
Tools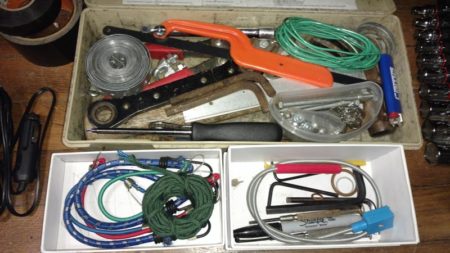 My bike did not have a tool kit when I purchased it. I assembled a pile of tools that covered a number of repairs that I might need to make on the bike. This list contains:
Hammer
Socket and Wrench Set
Small hacksaw
Metal Pipe Hanger – Pannier Attachment Repair if needed.
Torx Screwdriver
Ratchet Wrenches
Flexible Magnet
Para-cord
Repair Wire
Socket Extention
U-Bolts
Lighter
Nuts/Bolts
Washer assortment
Electrical and Gorilla tape
Allen Wrenches
12v Air Pump
Tire Gauge
Gorilla Glue
Heat Shrink
Electrical Connectors
Small and large flat heads and Phillip heads
Extra copper washers
Bungee Cords
Zip ties
Snips
Aluminum for back box repair
Other things I can't think of
Camping Gear
Hennessy Hammock
Eno Hammock
Two sets of hammock straps
Tent Spikes
Extra tarp
Inflatable Pillow
Sleeping Bag
Solar Led Light
Two Disc Golf Frisbee
Army Pot/Pan
Camping Drip Coffee Maker
Small Saw
Cards
Matches
Carabiners
Two Handheld flashlights
Headlamp
Cook Stove
Can of Propane
Fork/Knife combo
Dryer Lint
Multiple Slingshots and Ammo
Clothing
My clothing for the trip is minimal. I've actually shipping back almost half of the clothing that I brought since the weather has been so warm up north.
Big Boom Design Hoodie
Long sleeve shirt
Boxers
Socks
Thermals
Boots
Keens
Multiple Pairs of gloves. Riding and work gloves for repairs
One Pair of Shorts
One Pair of Carhartts
One Dress Shirts
3 Tee shirts
Riding Jacket
Riding Pants
Other
Helmet Lock
8 Big Boom Design Stress Reliever Hand Grenades
Notebooks
Pens
Passport
Water Bottle
Coffee Thermos
Heated Pad to put in the jacket
Electronics
Bike computer
Toshiba Laptop
1Gb Solid State Drive
Sony Bluetooth speaker
Phone
Cables Galore