Heading West on Highway 10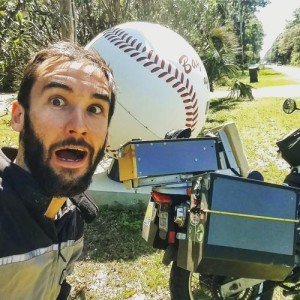 I got up and hit the road around 9:30. I had a long day of flat/straight highway ahead. I took I-10 west out of Jacksonville. After about 2 hours of highway 10 I headed south to get off the main highway for a bit. This detour took me through some amazing little towns. Highway 98 hugs the panhandle and runs down the very bottom edge of the coast.
This stretch of the trip was memorable for ocean views and a giant baseball that I came across along the way.
Apalachicola and The Slingshot
I was booking it through the Apalachicola National Forest getting hit by more bugs than I ever thought possible. The drive was fantastic! This will be once of the most memorable moments of the trip. This stretch of road was the time that I truly felt disconnected for the first time. Up until this point the magnitude of the trip hadn't set in. It felt great!
I was cruising through an intersection when my buddy Blair's words came into mind "never pass up gas". I pulled in for a quick fill up and just as I did a fellow explorer in a Polaris Slingshot pulled up. George was his name although I didn't catch the name of his sidekick. They were also from NC and were exploring the country in a slingshot and his wife was on a bicycle… somewhere.
These Polaris slingshots show back up the next day when I stop in the Indian Dealership.
The Beach Again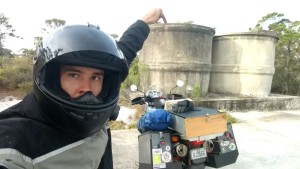 Once I snaked my way down the panhandle I came across a weird little beach town, Cape San Blas. This place has more high end homes getting built than I've ever seen in a beach town. The interesting thing is that past the beach town, towards the end of the peninsula is 10 miles of state park. This little gem is tucked away at the very end of a peculiar area of the country.
The state park has cabins, legit campsites, and primitive campsites. The primitive campsites are where I'm headed tonight. This involves a 3 mile ride down a curvy sand covered path, parking by a beach access dock and a white sand covered path blocked by a fence. The first goal was to run and see the beach. Done. Next goal is to find the campsite.
The Campsite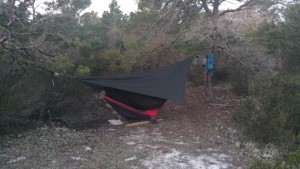 I had to hike down a side path "about a mile" is what she said. I unpacked my boxes and expanded out all my backpacks that I brought with for this very occasion. I assumed there would be a number of times where I had to leave the bike and walk my stuff into the woods. Thank Andy Glen for hooking me up with some sweet bags for the trip, the definitely came in handy.
I found the campsite, or at least what I thought would be a decent spot to camp. I setup the hammock, unpacked my gear, packed a day bag, changed and set out on a little hike. This little hike turned into a bushwhacking expedition through the hills and dunes in search of the ocean (following the sound). Eventually I popped out on the beach with know one in sight. This place is very isolated and remote.
I walked back on the beach to the trail head that I saw earlier when I first went to check out the beach. I sat, watched the sunset, wished I had a beer or two, and finally wrote in the journal that my sister bought me for this trip.
The Night Time
That night around 1:00 I awoke to the sounds of an animal nearby. At first it was very faint and tough to know which direction, how close, what kind, etc. First moment of fear on this trip sets in…
I sat for about 10 minutes listening intently. Finally as the noise got closer I decided to reach below my hammock (into the eno setup below to hold bags) and grab my machete. On my way into town earlier that day I saw at least a dozen signs for bear crossing. My mind immediately went to that thought and I was frozen.
After another minute of anticipation I finally heard a snort noise. It sounded like a pig or boar. At that point I felt OK making my presence known so I let out a big grunt and turned on the flashlight. Everything went silent. Over the next few minutes I heard whatever it was slowly fade into the woods.