The Broken Chain Disaster – Frontenac, MN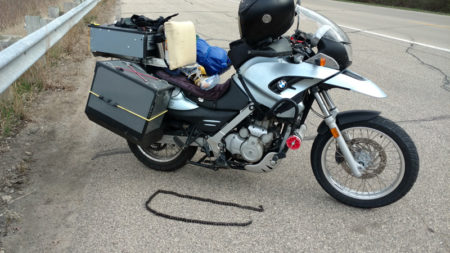 I was told that BMW Motorcycles don't break. They are the best bike for a journey like the one I'm on. "Just change the oil and the chain and you're good to go" I was told. I only changed the oil… therefore I broke my chain.
I snapped my chain in a very small town called Frontenac Minnesota (town of 282 people). It was a beautiful day, I was by the side of the Mississippi River, I had cell service and at least a had one (warm) beer on the bike. I'll do a full write up on the chain breakage at some point. Long story short: I got a tow into town, dropped the bike at a shop and walked (with all my stuff) to a state park a few miles away.
Yan Teopa Rock – "Rock with a Big Hole"
Once I had my camp setup for the evening I decided to take a trail down the mountain to sit by the Mississippi and decompress from the first truly shitty day of the trip. The trail was extremely steep and reminded me of the terrain up at Grandfather Mountain in NC. Along the way is a odd stone that stands out from all the rest.
An Unexpected Bliss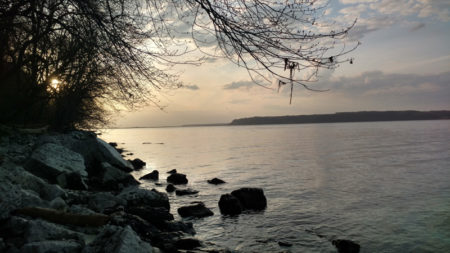 I reached the bottom of the trail and the edge of the Mississippi River. The sun was about an hour from setting. The weather was about 10-15 degrees warmer than normal and this brought seagulls and pelicans (yes, seagulls and pelicans in Minnesota in April) to the river in search of fish.
This hike/sunset/meditation time was one of the most therapeutic and retrospective moments that I had on this trip. At that moment: My bike was broken, I was stuck in a town of 300 people, camping in a hammock, out of food, on foot, and in a weird way happier than I had been in a long time.
The peacefulness of the moment, mixed with the chaos of the day, shadowed by the magnitude of the trip, made me realize the true adventure was taking place before my eyes. This was why I took this trip. To push past the comfort zone and deal with challenging stuff. To quote my friend Richard: "The goal is not to get through the challenges in life. The goal is to continue to seek out more challenging challenges."
The Ride Back Into Town the Next Day
The morning started earlier than normal because I knew it would be a very long day and this would probably be the first day in weeks that I didn't get to ride my motorcycle. I was lucky enough to meet a older gentleman who saw me walking into the state park the day before. His name was Ken and reminded me of my grandfather (also named Ken).
Ken was a retired math teacher and one of the kindest people I've ever met. In addition to giving me a ride back into town he offered me food, firewood, water, and any help that I needed once I explained my broken down situation. I accepted the ride back into town but had everything else covered.
JT Cycle Werx Saves the Day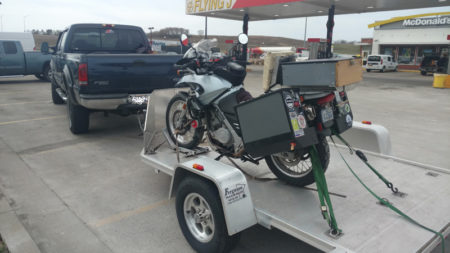 The bike shop that I dropped my bike at the day before was run by a guy named John. In addition to having a sweet Harley Davidson that he rebuilt by hand, he's an amazingly helpful guy. We couldn't source a 520 Motorcycle chain for my bike so John ended up giving me a ride 80 miles north to my destination (from the day before, if I hadn't broken my chain).
John is a true entrepreneur and an excellent motorcycle mechanic. If you're ever in the Lake City, Minnesota (Birthplace of Water Skiing) area you should stop by JT Cycle Werx.
The Twin Cities Tree House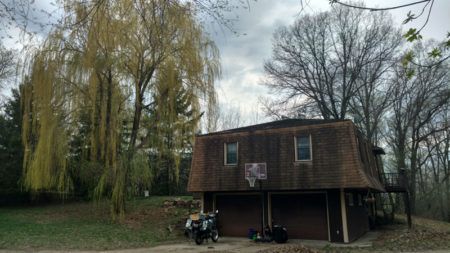 My destination (for two days now) has been a tree house just outside of Stillwater, WI. The property (and tree house) are owned by a college friend of my girlfriend. The woman (Rhonda) is a bad ass hunter, biker, boundary water guide, and gracious enough to let a friend of a friend crash at her house.
As it turns out, Rhonda has a friend in the twin cities area that rides BMW motorcycles and also loves helping out broken down strangers. Clay showed up with a brand new 520 chain, chain tool, a six pack of beer, and two steaks. Way to save the day Clay!
We fixed the chain in about 15 minutes and got the tension adjusted correctly. I learned a lot from Clay in just a few hours of hanging out and working on my bike with him. He is a unique individual with a passion for motorcycles and travel unlike any I've ever met. I hope that one day we get a chance to ride together.