On Saturday, April 2nd I set out on a 30 day 5,000 mile solo motorcycle trip around the right half of our country. I'll be documenting the trip and will try to have regular posts on this site. You can also follow along (with less reading) through the Instagram @boomersassmann.
The Route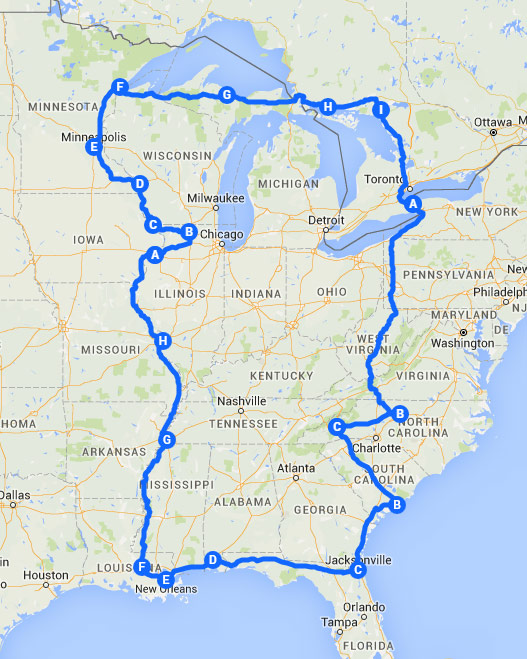 Week 1 – My trip begins in my hometown of Asheville, NC. I head southeast to Charleston, SC. South to Jacksonville, FL and on to the Orlando area. From here I head back northwest to Ochlockonee FL, west to Mobile and land in New Orleans on Thursday the 7th.
Week 2 – New Orleans is the end/bottom of the Mississippi River. From here I will travel north up the Mississippi River until I reach Minneapolis, MN where the river "ends". I'll travel a little bit further north up the St. Croix River to Duluth, MN.
Week 3 – Weather permitting, I will head east in Canada through Marquette and on to Sault Ste. Marie, ON. Further East to Blind River, French River and finally head south to St. Catharines, ON to visit my cousin for a few days.
Week 4 – The final week of travel is a route I've driven many time, although never on a motorcycle. The last leg of the trip will head south into the US through West Virginia and into Greensboro, NC where I grew up. I'll spend a few days with my folks before heading west back to Asheville NC.
The Bike
My Chariot for the trip is a 2005 F650GS BMW. It is a single cylinder 650cc "Thumper" that I purchased in November of 2015. This bike has more "creature comforts" than any bike (and maybe car) I've ever had. Heated grips, Anti-lock breaks, working…everything. I've fitted the bike with three boxes (two panniers and a rear bike computer/electronic box) an emergency tube up front, tank bag and super comfy seat.
I'll continue to build out blog posts that cover the various attachment methods for the boxes, bike computer components, and other modifications over the next month.
The Gear
I've probably packed and unpacked the bike 20 times over the past few months. At this point I'm feeling fairly OCD about the gear that I'm taking with me. I know that I'll take items that I never use once and will also regret, within the first day of travel, not grabbing something super simple and basic. I'll be compiling a full gear list over the next week and will post on the gear section of this site. Stay tuned.
The Bike Computer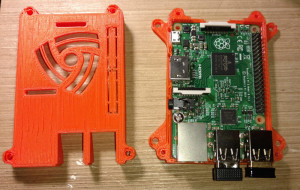 The bike computer came from a realization that my phone could do almost everything that I needed on the road with the exception of a dash/bike camera. I decided to use this trip to teach myself about Raspberry Pi's and Mapping tools. The motorcycle computer is a Raspberry Pi 2 enclosed in a 3D printed case coupled to a 5 inch touch screen. It catches Wifi from the hot-spot on my phone.
I'll start with the battery. I've used a battery isolator that connects two 12v lead acid batteries so that above 12.9 volts the batteries are connected and charge together. Below 12.9v the batteries disconnect and the electronics drain only the secondary battery. Next in line is a switch that gets activated when the bike starts and stays connected until the bike is turned off. When the ignition switch is killed it initiates a shutdown sequence on the Pi so that it doesn't have a hard shut-off every time I turn off the bike. The Pi has a 5 Mega pixel camera with 2 IR night vision sensors that records and dumps to a solid state 250Gb hard drive. It also has a USB connected GPS that sticks to the outside of the box with magnetic base.
Also in the back box is: 12v Battery, 9V light rail for night time (dome light), USB power hub for charging…everything, Lithium Ion Battery charger for my primary flashlight, Arduino to monitor temperature and humidity in the box and turn on a circulation fan when needed and a mini keyboard/track pad. The box itself is an old PC from the 90's – thanks for not throwing this out dad.