Leaving Baton Rouge
I left a little later than I normally do so that I could spend most of the day walking around the lake with my girl friend before we weren't going to see each other for 3 weeks. I hit the road around 1:00. My destination was 200 miles north up the Mississippi in a town called Lake Providence, Louisiana. It is an odd little shaped lake surrounded by mostly farm land.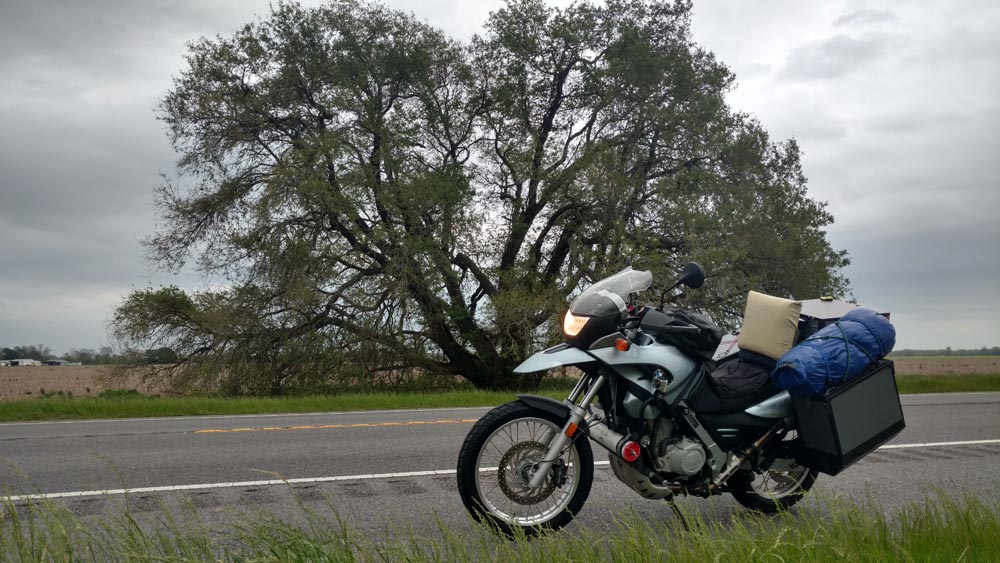 My host was a man named King. I met King online through ADVrider.com (Adventure Rider). It's been a huge help to find interesting folks along the journey who also set out on large motorcycle trips like mine. There is a network of riders spread across the country who are willing to host folks in the backyards and guest rooms. It's been fantastic.
The Ride Through Natchez and Mississippi
This section of the ride was fantastic. Rolling farm hills with plenty of trees. Great weather and open road. As soon as I crossed back in to Louisiana the skies started to darken. I pulled over to put on my rain gear and gas up just as the thunder and lightning started. The storm was moving north in the direction that I was headed. I jumped back on the bike and tried to get ahead of the storm as much as possible. This worked (kind of) for about 2 hours.
The Storm Hits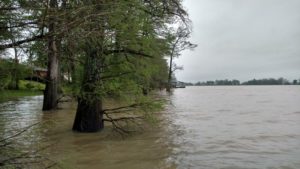 By the time I hit Tallulah, Louisiana the skies were black. The rain had been pounding for almost an hour. It knocked my speed down by about 10 mph but nothing too bad. I pulled into a gas station to dry off and gas up. However drying off was completely out of the question at this point. I checked the radar and it looked like it was only going to get worst and it was starting to get dark. I had about 40 minutes more to go and I was heading directly into the storm.
I had no choice, If I wanted to make it to my destination that night. I buckled down and pushed through the worst rain storm I've ever encountered.
Arrival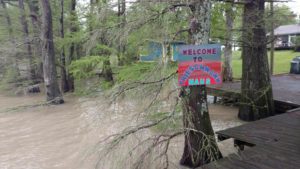 The last 15 minutes was the most dangerous riding I've done on this trip. It was dumping rain and dark at this point. The road was completely covered in water. Some spots an inch and others 6-10. The fields looked like likes on either side of the road. It was a super scary moment that I'll never forget.
When I finally got to my destination (thanks little GPS lady who chimes in at the perfect moments) I was welcomed with a dry towel and a cold beer. I met an amazing couple who welcomed me into their home and fed me chicken wings and beer.