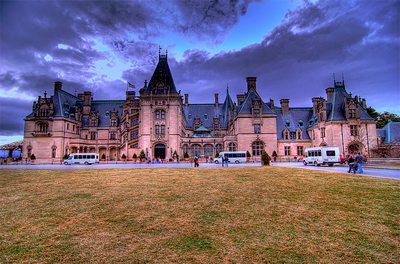 An Event Update…afterthoughts:
For anyone that wants to start tracking a website without using google analytic you might want to check out Trackle.com or you can link to the google analytics page here.
I also mentioned Hubspot who has a a great online tool called a website grader.
Over the next few weeks I'll add to this list of after thoughts about todays AWI meeting.
---
Event Host:
Carolinas Chapter AWI
Location:
Inn on Biltmore Estate
1 Antler Hill Rd.
Asheville, NC 28803 US
When:
Friday, February 26, 9:00AM
Phone: 336-887-0700
Our Speaker:
Boomer Sassmann
---
Join us once again in beautiful Asheville, NC at the Inn on Biltmore Estate for our Membership Meeting. We have a great program lined up for you!
Social Media . . . could you? should you? would you?
Social Media platforms build buzz, boost business and serve small businesses as low-cost/no-cost marketing tools. Small business owners need to understand how these tools strategically serve and support small business first so they best implement social media strategies to sell products and/or services.
Hand-outs for the day:
Social Media Terminology = http://bigboomdesign.com/AWI/SocialMediaTermsfromWikipedia.pdf
Website Terminology = http://bigboomdesign.com/AWI/WebsiteTerminology.pdf
Social Media Map = http://bigboomdesign.com/AWI/social-media-map.pdf
Woodworker Social Media Links:
Woodworkers on Twitter = http://www.twibes.com/woodworking/twitter-list
Top 49 Woodworking Blogs = http://www.networkedblogs.com/topic/woodworking/
Sawdust Soup = http://www.sawdustsoup.com/group/socialmediaforwoodworkers
Other relevant links about social media:
http://mashable.com/2010/02/08/ted-talks-social-meida/
http://www.readwriteweb.com/archives/5_simple_twitter_listening_tips_every_marketer.php
http://www.siliconbeachtraining.co.uk/free-resources/social-media-marketing-links/
http://socialmediatoday.com/SMC/165191
http://www.redalkemi.com/articles/benefits-link-popularity.php#
http://www.socialmediatoday.com/SMC/143935
http://www.seofool.com/twitter-as-an-seo-tool
http://www.insidefacebook.com/2009/01/27/10-things-all-businesses-should-do-to-market-more-effectively-on-facebook/
http://www.10e20.com/blog/2009/10/30/optimizing-an-existing-website-checklist/