A container strong enough to withstand shipment, storage, and handling heavy loads is termed as a Shipping container. And these form the most essential part of the shipping industry, trade and transport. These containers are generally used for shipping a large quantity of products from one part of the world to new another. These containers vary in structure, materials, dimension, construction, etc. from one another depending on the type of products to be shipped. Have sneak peek at the seven types of containers which you can use for storing and shipping of your products.
1. Dry Storage Container:
Their name is enough to explain their usage. Being the most common types they are generally used for shipping dry goods, especially which do not require temperature control. Standardized by ISO, dry containers are available in three sizes, i.e. 20ft, 40 ft and 10ft.
2. Flat Rack Container:
For those who need to move heavy loads, these containers with collapsible sides are ideal for them. They are available with non-collapsible sides too. You can use them for loading from sides as well as top, as their sides can be folded making it a flat rack. They are excellent in terms of strength as they are manufactured from steel and available generally in 20′ and 40′ sizes.
3. Tunnel container:
Freight containers with doors at both its end are referred to tunnel containers. The two doors enable quick loading and unloading of the products.
4. Insulated and Thermal Container
If you need a container which safeguards your products against the harsh weather conditions, these insulated and thermal storage containers will be the best solution. They come with regulated temperature control environment, helpful in maintaining a high temperature to keep your goods warmer.
5. Half Height Containers: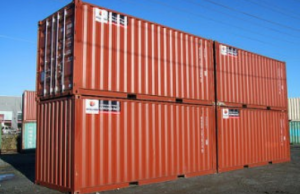 Widely used for transporting low volume cargo especially on ships and train, half height containers are made mostly of steel. Any amount of goods can be carried but generally they are used for carrying coal, stones, sand, gravel, etc. as they can be easily loaded and unloaded into these containers.
6. Car Carriers:
For the car dealers and manufacturers, car carriers have proved to be a blessing.  These special containers are used for shipment of cars. Their collapsible sides are drafted in such a way that a car fits smoothly and is protected from any kind of damage or dents. Besides, they can be used for the moving liquid materials and other special goods like weapons over long distances.
7. Swap Bodies:

They are special intermodal containers which are mostly used in Europe. Although these units are not manufactured as per the ISO standards, i.e. they are not standardized, yet they have turned to be extremely useful. Especially, their feature to be swapped to a rail car with help of truck chassis make them a must have in this list. Along this, they feature a strong bottom and a convertible, which makes shipping easy and they cost comparatively less than any other container.
Author Bio:
Jason Markin is the owner of RTC Container Sales, a company that deals with shipping containers of every type, including the new containers, used containers, etc. He is also a passionate blogger, who keep updating his readers timely regarding the leaps and bounds in the shipping industry.
Author – Jason Markin