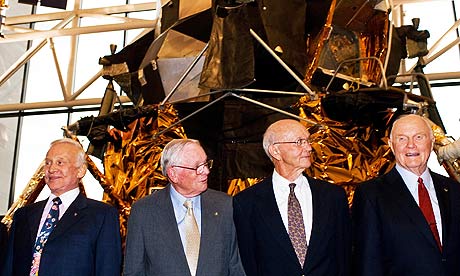 (L to R) Buzz Aldrin, Neil Armstrong, Michael Collins and John Glenn in front of the lunar module device at the Smithsonian National Air and Space Museum in Washington. Photograph: Marcus Yam/AP
The heroes of America's moon landing last night called for the US to launch a mission to Mars and beyond, in a rare joint appearance aimed at reigniting interest in costly and risky manned space flight.
Now in their late 70s, Neil Armstrong, Buzz Aldrin, Michael Collins and John Glenn recounted their exploits, describing the massive US effort to beat the Soviet Union in the space race that culminated 40 years ago today, when Armstrong and Aldrin stepped out of the Eagle moon lander on to the lunar surface.
Several of the men called on Barack Obama to lead the country on a second mission, this time to Mars. But the star of the evening, Armstrong, refused to be drawn into the debate, instead describing the Apollo mission that granted him worldwide fame as a "diversion" primarily useful as a peaceful outlet for cold war competition between the US and the Soviet Union.
"It did allow both sides to take the high road with the objectives of science and learning and exploration," said Armstrong, the first human on the moon. But he noted the parallel development of the space programme and the intercontinental ballistic missiles capable of mass destruction.